The best Personal computer cleaner finds and fixes performance issues like slow startup times, software updates, and battery life. Because cleaning software requires complete access to your computer, choosing a reputable and trustworthy vendor is critical.
With our alphabetical list of the finest Windows optimizers, you can tune up your entire system and unleash your PC's full potential. Repair PCs frequently to provide an excellent user experience. Cleaning up undesirable data, updating software, protecting the system from malicious spyware, and maintaining associated hardware such as a broken keyboard or PC mouse may appear to be arduous jobs. However, all of this is possible with the use of a few simple PC maintenance tools.
 It is possible to use third-party maintenance solutions that automatically conduct critical maintenance tasks, saving you time and ensuring your PC runs appropriately. We've compiled a list of the most often used personal cleaning products at work. We've compiled a list of ten of these programs for your consideration.
What Use Does Computer Cleaning Software Serve?
Cleaning software for your computer is necessary to maximize efficiency and free up space. While you can manually clean your computer by deleting temporary files, this will only yield a fraction of the disk space that a comprehensive PC cleaning application can.
With only a few clicks, you can thoroughly examine and tune up your computer, resulting in significant improvements in startup time, processing performance, and battery life.
Is It Safe to Use PC Cleaners?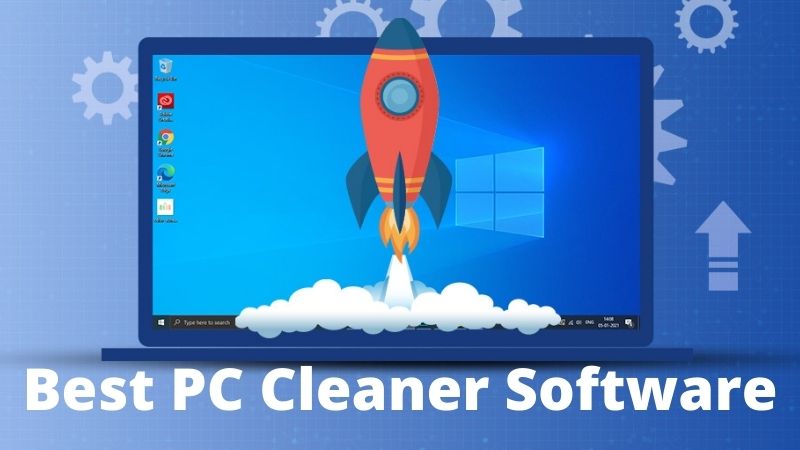 Cleaners for personal computers acquired from reputable sources are safe. It can help you preserve your privacy and security by removing potentially harmful junkware, clearing your browser's cache, cookies, and other data that track your online activities.
Is Software for Cleaning Genuinely Efficient?
Yes, cleaning software is effective. All of the top PC cleaners have been shown to increase disk space and rejuvenate slow computers significantly. You can also purchase equally effective Mac-specific cleaning equipment.
Will a PC Cleaning Improve My Computer's Performance?
Yes, a thorough PC cleaning will significantly speed up your computer in various ways. Top-tier computer cleaners optimize your system for a faster, more enjoyable user experience by freeing up disk space, resolving performance issues, and optimizing the entire system.
 Avast Cleanup demonstrated up to 62% faster startup times and 51% faster processing speeds in lab testing, in addition to reclaiming tens of gigabytes of disk space. For a quicker connection, read our post on boosting your internet speed.
READ MORE:
1. Avast Cleanup
Avast Cleanup has been found to significantly boost processing speeds and offers tools for optimizing every aspect of your PC's efficiency. It removes bloatware, fixes registry errors, defragments your hard drive, and deletes trash files and cached data to quickly get you back up and running. Automatic Maintenance by Avast Cleanup keeps your PC in peak shape, allowing you to enjoy a stress-free online experience. Avast Cleanup is one of the top PC performance software applications accessible due to its performance and adaptability. You can currently try it for free.
2. AVG TuneUp
AVG TuneUp is an excellent all-in-one PC cleaning and maintenance tool that revitalizes aging computers and enhances the performance of new ones. It cleans your hard drive and browser thoroughly, freeing up gigabytes of space and ensuring that your Windows PC runs smoothly and quickly. AVG TuneUp's best features, such as its Sleep Mode technology, easily elevate it to the top of the list of available PC optimizers. Background apps are snoozed in Sleep Mode to prevent them from hogging CPU and memory, allowing your other applications to run more efficiently. You can begin using it immediately with a free trial.
3. ATF Cleaner
ATF Cleaner was created for Windows XP. Although Windows Vista and Windows 7 are not officially supported, this method works. Once the file has been downloaded to your Firefox or Chrome browser, right-click it and choose Open Containing Folder from the context menu. Please save it to your desktop or another location of your choice after copying it from that folder. Unlike CCleaner, ATF Cleaner cleans the Windows Temp, Current Users Temp, and All Windows Users Temp directories. Once you're done with it, could you save it to a folder for future use?
4. TFC Cleaner
TFC Cleaner is the next item on the agenda. This software thoroughly cleans your computer's temporary internet files and cache for all of your Windows user profiles, elevating PC maintenance to a new level! Have you ever worked with a machine that has been passed around the office a few times and utilized by eight or nine different employees over several years? They almost certainly have a lot of junk in their Windows temporary files. You can save TFC to your desktop like ATF Cleaner. It's as simple as clicking Start and waiting. It may be necessary to restart your computer afterward. This tool should be kept in the new cleaner folder.
5. SuperAntiSpyware
SuperAntiSpyware is a must-have if you want to avoid malware tracking cookies! As the name implies, it cleans your computer of spyware (a lot of it). Spyware and tracking cookies may slow down your machine. You can choose between the free (which I use) and professional editions. You should download the free edition if you already own an antivirus program. When the installation package is complete, it will automatically install itself into the program files directory of your Windows operating system and begin running. When scanning your computer, you have the option of performing a speedy scan or a comprehensive scan. At the very least once a month, I recommend performing a comprehensive scan followed by a full PC scan. Conduct a brief scan once or twice a week.
6. CCleaner
CCleaner is a powerful and simple-to-use program well-known for its sophisticated and dependable registry cleaning tool, which deletes or repairs problematic objects in your system. A Professional is required to access the automated deep cleaning and real-time system monitoring capabilities. So CCleaner is a powerful and adaptive Personal computer cleaner. It is one of the best free PC cleaners available. It is compatible with all versions of Windows, starting with Windows 7.
7. CleanMyPC
It can assist you in restoring regular operation to your computer if it has a fragmented hard disk, is experiencing registry problems, or is bloated with garbage compared to other top-notch cleaning programs, the software uninstaller and plug-in management capabilities more than compensate for any drawbacks. CleanMyPC is a small and simple-to-use utility that crams a lot of power into a small package. However, without a backup option, you would be unable to recover anything it deletes, which is especially dangerous considering the scan results' scarcity of information.
READ MORE:
5 Best Sought Out Computer Softwares for Your Business : Buy it, Use it
8. IObit Advanced SystemCare
The free edition of IObit Advanced SystemCare provides backup and restore capabilities in addition to system optimization, making it one of the finest free performance boosters for Windows PCs. Additionally, the premium version includes a comprehensive set of performance-enhancing features. Even in the Pro edition, this no-frills tuneup application lacks several critical functions in many of the best PC cleaners. These features are available as upsells, additional downloads, or are absent.
9. Iolo System Mechanic
Iolo System Mechanic comes equipped with a robust repair and maintenance toolbox, making it one of the most significant system optimizers and Windows utilities available. It will defragment your hard drive and browser and examine your CPU, RAM, and complicated drive settings to maximize resource efficiency. System Mechanic is a time-tested utility for defragmenting disks and troubleshooting. Considering the limited utility of some of the other features, you may be able to find a better bargain elsewhere.
10. Watchdog PC Cleaner Global
Watchdog Personal computer Cleaner keeps your computer running smoothly and in an optimized state. Using its advanced features, boost your computer's speed, free up disk space, and prolong your computer's health with a click of a button. Watchdog Personal computer Cleaner is the ultimate maintenance toolbox for your system. Using Watchdog's comprehensive maintenance and utility software, turn your computer into a performance powerhouse. Get your Watchdog Personal computer Cleaner software at great prices from the Softvire Australia online store. With our great deals and discounts for Watchdog products, you'll always have access to the security and tuneup features that Watchdog reviews love.
Defragmentation and registry cleaning at high speeds, Watchdog quickly resolves registry issues and erroneous system configurations, ensuring that your system remains stable while requiring minimal system resources. Additionally, defragmenting your registry is as simple as clicking a button. So accelerates the startup of your computer. When you power on your computer, you choose to activate specific applications and folders. The user-friendly interface of Watchdog PC Cleaner plus enables you to decide which applications start when the computer boots rapidly.
Simple scheduling of scans is possible. Plan PC searches for periods when fewer people are online. Ascertain that your maintenance schedule does not conflict with your business or personal obligations. 
Conclusion
Computer cleaners may significantly simplify your life. As a consequence, you'll spend less time cleaning up your Personal computer cleaner like CCleaner, for example, may do several functions in addition to cleaning up your computer's garbage. Additionally, they can supply you with several system-maintenance tools to assist you in optimizing your device's performance. These five cleaning programs are necessary for attaining outstanding achievements in your business and other computer endeavors.
Visit Softvire Australia to learn more about computer hardware and software that can assist you in your career.