Everybody wants to enhance their website's organic traffic. Whether you're just getting started or have tens of thousands of organic visitors per month, there is an innate urge to continue developing. You may demand a new strategy or a return to the fundamentals. You are identifying what should be eliminated to boost organic traffic. Even if you have the capability, please refrain from including everything on your website. The following are 8 items that you should never, ever, ever publish on your website.
Defining Organic Traffic
Organic traffic refers to users who find their way to your website via unpaid ("organic") search results. On the other side, paid traffic refers to visits arising from paid marketing. Organic visitors arrive at your website from a search engine such as Google or Bing. They are not "recommendations" from another website.
The most straightforward strategy to improve organic traffic to your website is maintaining a consistent blog with high-quality, relevant content. However, this is only one method of attracting new visitors. SEO (search engine optimization) is a subset of online marketing that focuses exclusively on organic traffic improvement.
Organic traffic is generated when a website appears in the search engine results pages of a user's search, such as Google, Yahoo, or Bing. Organic traffic is the most desired sort of traffic by website owners because it is free.
In Google Analytics, Where Do You View Organic Traffic?
To evaluate organic traffic, also known as SEO traffic, in Google Analytics, browse to Acquisition / All Traffic / Channels and then to the Channel Grouping report. As a result, you can track the origins of your website visitors. If you use Organic Search, you may do a complete analysis of the signs associated with organic traffic. It is one of the most critical reports for reviewing the SEO optimization plan's results. Additionally, sophisticated data is provided, such as the most popular landing pages and keywords and a variety of other valuable indicators.
Analytics 
It is a free Google application that tracks all web page activity; it is also referred to as a website analytics tool. Most site owners use this tool to monitor overall site traffic, average visitor time on site, page views, traffic sources (direct, organic, referrals, and sponsored traffic), and organic traffic keywords. By analyzing the data displayed in the account, it is possible to determine the quality of the traffic and the sources that create it. GA is an indispensable tool for monitoring the progress of any internet marketing campaign. Regardless of whether the traffic is organic or paid, we may measure the performance of the targeted keywords (advertising traffic). 
The most important thing to analyze for keywords is conversion, followed by time spent on site, pages viewed, and bounce rates. For those who conduct an in-depth analysis of a site's traffic sources, the display of "not provided" in Google Analytics has begun to quiver as the proportion of this traffic increases. "Not supplied" traffic is essentially organic traffic generated by a search engine following the acquisition of shown results for various keywords.
On October 18, 2011
Google has officially disclosed this move, which they claim is being implemented to safeguard its search engine users. Since then, Google has taken significant steps to secure searches. Even though the data not provided exceeded 85 per cent, we may use Google Search Console to establish which phrases generated traffic and how much traffic was created. When you link your Search Console account to your Analytics account, you'll be able to view both Search Console data and conversions. Once you've determined which keywords convert the best, you can focus your efforts on increasing organic traffic and sales.
Increase the number of pages viewed during a session and decrease the bounce rate by extending the amount of time a user spends on your website or online store after arriving at a page. Then it would help if you optimized conversion, or what users do once they come on your site, as the ordering process begins. You must understand that SEO is not new and constantly changing, and you must take the necessary steps to stay current.
8 Things You Should Remove From Your Website
1. Phantasmagorical Headlines
Typically, homepage headlines fall short in communicating a company's strengths. Rather than that, they make a broad statement about the quality or value of something. The visitor's first thought is, "Am I in the correct location?" To solve this concern, the title should include the primary business sector. Ironically, the information on "what we do" is frequently buried beneath the title in tiny text.
2. Social Media Icons In Your Header
It's beneficial to have a high volume of social media traffic, but only if the traffic is targeted at you. It does you no good if users leave your site and visit a social networking site. They are pretty unlikely to return. Wherever there is movement, there is hope. A visitor to your website may subscribe to your newsletter or become a lead. A YouTube user is more likely to watch footage of canines that appear to have committed a crime. Surprisingly, social icons are visible in the headers of 26% of the most popular marketing websites. Use the best image editing software for your SEO designs.
3. Meaningless Section Headers
When sections of a page are separated, the sections typically have their headings. These headers are typically more significant than the section's items, but they are far less critical. Consider the following if your website pages contain section headers: Is it possible that eliminating that heading would be misleading for visitors? If you answered no, the headers have no meaning. Rather than bringing value, it generates aesthetic clutter.
4. The Blog's Dates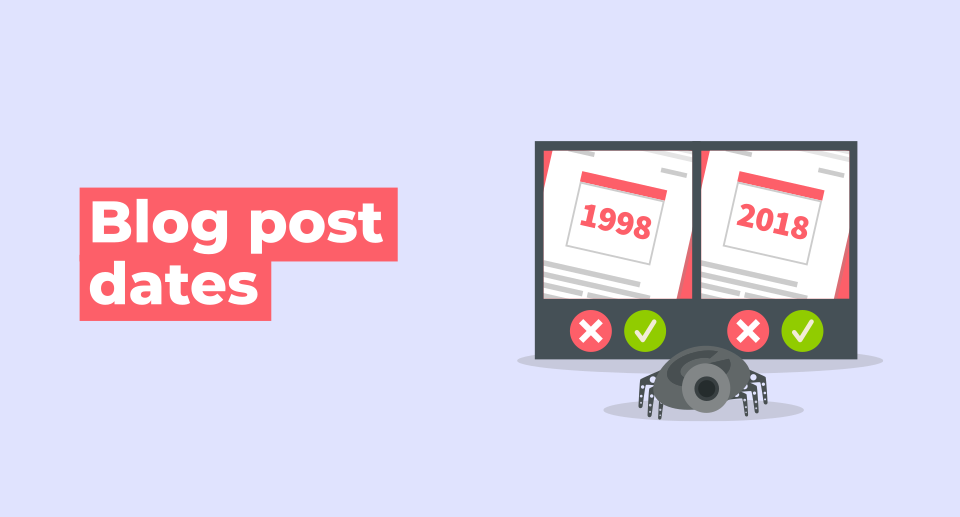 If your content strategy is anything like mine, you generate and distribute valuable how-to content for your audience. Additionally, they will never go out of style. These are what are referred to be "evergreen" articles. They have a firm grasp on time travel. They will retain their value in a month or a year.
Thus, what is the purpose of including the date? Including dates in a blog's design or headlines leads to eventual out-of-dates. Why would you want to advertise your age unless it is necessary?
5. Protracted Paragraphs 
Several of the guests have an insatiable appetite for reading. Each visitor is scanned. Utilizing concise paragraphs is one of the most straightforward techniques to ensure that your information is scannable. Contrast and contrast the following two pages. A paragraph should never exceed three or four lines in length. Include bullets, bolding, internal links, and another formatting to make your work more scannable. If necessary, you may consult our content checklist.
6. YouTube Suggested Videos
Integrating a YouTube video into your website is straightforward. However, exercise caution. Following the completion of the video, YouTube may broadcast other videos that are entirely unrelated. Do the visitors to your site enjoy cat videos?
7. People Stock Photographs
Because human characteristics are so enticing, human images have a great deal of power. We glance at faces more than any other form of an image from the moment we are born. Each webpage should have an image of a person.
On the other hand, visitors may notice a stock image from a great distance. And stock photography of individuals is the absolute worst. They don't seem legitimate. Amazing lighting. An ethnically diversified office. The tone is melancholy. No. Spend a little on photography. Make a concerted effort to present yourself in the best light possible on photo day. You're short on funds, aren't you? Take a selfie using your phone. It is more vital, to be honest than to be polished. 
8. Press Releases
A press release is not synonymous with a blog post. It is neither educational nor amusing. It is a press release intended solely for journalists. Additionally, they are rarely written for the web. They are pasted into websites or uploaded as PDF files (more on PDF files in a minute)
Before you write another press release on your blog or in your news section, consider the following:
How many visitors to your site are journalists?
It's probably around.01 per cent for the majority of sites. It begs the question of why "press" appears on the primary menu of so many websites.
How much effort would it take to transform a press release into helpful content?
Is "for expedited release" truly necessary? Is it necessary to put contact information for the firm at the bottom? Why is it attempting to connect to your site if it is already there? Is this your best effort to produce high-quality web content?
Do you anticipate that your news release will captivate your readers?
According to the report, they are unlikely to do so. According to this survey, they are one of the least convincing elements you can use on your website.
Conclusion
As an SEO content writer or consultant, I'm sure you've encountered some significant issues with organic traffic on your website and wondered why it's not increasing. Then, when it comes to growing internet traffic, these twelve elements you should eliminate from your website are spot on. To be competitive in this sector, you must be competitive. Still, if you continue to use these on your websites, you will lag in this type of competition.
If you want to improve the convenience and security of your computer experience, visit Softvire Australia to obtain the most excellent tools on the market for protecting your business.