Kaspersky virus protection is one of the best antivirus software that you can find. In the end, there are a lot of reasons to invest in antivirus software. Antivirus software is essential for identity protection since there is too much personal data on your computer. If a cybercriminal or virus breaches your protection, disaster, including identity theft, can ensue. It is why, as soon as a Windows PC is powered on, it should be equipped with antivirus software that is regularly updated to stay current.
However, what sets decent antivirus software apart from the rest? And how can you be sure you're keeping up with cybercriminals, who are constantly devising new ways to circumvent ever-more-complex security measures? Therefore, you need to learn what separates the good from the great. You'll want a solution with malware protection, download monitoring, and activity monitoring capabilities to keep an eye out for malicious software and unusual activity on your PC. Additionally, it should deliver a safe browsing experience.
We have listed 7 best antivirus software for you to choose from:
1. Kaspersky Total Security
Kaspersky virus protection is commercially available. It is the optimum combination of security and performance software for users of personal computers. It makes Kaspersky virus Protection the ultimate digital security solution for families and small enterprises, according to Kaspersky Total Security evaluations. With Kaspersky Total Security, you can safeguard your Windows PC against malicious software and hackers both online and offline.
Purchase Kaspersky Total Security software keys and downloads from the Softvire Australia online store at the best prices. You will not find a better discount on Kaspersky Total Security anywhere else than when you purchase with us.
Key Features
The best security for all your PC
There is no reason to purchase a slew of different plans or devices to keep your computer secure. With a single subscription to Kaspersky Total Security, you can safeguard your Windows. With the affordable Kaspersky Total Security antivirus bundle, you'll be protected against emerging threats.
Protect your privacy the right way
Encrypt sensitive data and "shred" unwanted files with a single click. Additionally, to prevent potential hackers from spying on you, disable unauthorized access to the webcam on your PC. In theft or loss, Kaspersky Privacy Protection prevents unauthorized users from reading details about your calls and texts.
Bank & shop with confidence
Kaspersky virus protection Safe Money protects your online banking and shopping with an additional layer of protection. Protect yourself from hackers seeking to steal your bank and credit card information when conducting critical online transactions.
Family protection that matters
Kaspersky virus protection has parental Control solutions that enable parents to safeguard their children against online predators and risks. Control which websites family members have access to and parental consent is required when sensitive information is shared online.
Protection without the hassle
Kaspersky virus protection monitors your computer in the background to ensure operating normally. You won't have to worry about your security interfering with your PC's performance with Total Security.
READ MORE:
2.Bitdefender Antivirus Plus
Bitdefender Antivirus Plus is the antivirus program your computer, and you have been waiting for. Take advantage of the unmatched protection that Bitdefender Antivirus Plus reviews have lauded.
To begin enjoying online security immediately, purchase Bitdefender Antivirus Plus from the Softvire online store. You no longer have to wait for a complete delivery cycle before receiving your Bitdefender Antivirus Plus download version.
Key Features
Bitdefender Autopilot
Bitdefender Autopilot is an antivirus application that automatically manages your security settings while you work or play. Best of all, you won't need to fiddle with complex settings to obtain the level of protection you desire.
Full threat protection
Viruses, worms, and Trojan exploits are examples of online dangers to be cautious of. So With Bitdefender Antivirus Plus, your personal and financial information is always secure.
Protection without sacrificing performance
Maintain the security of your system without impairing its functionality. Allow your safety to come before your comfort.
Improved Real-time Protection
The most advanced antivirus solution available today possesses unmatched strength. Bitdefender Antivirus Plus safeguards your computer against viruses, worms, Trojans, ransomware, zero-day exploits, rootkits, and spyware, as well as other types of e-threats. Your data and privacy are protected.
Web Attack Prevention
Our web filtering system ensures that you are never directed to a potentially dangerous website. Before you click on a link in your search results, double-check that it is a safe site to visit. Bitdefender Antivirus Plus also blocks all known harmful links.
Vulnerability Scan
You can scan for security flaws and vulnerabilities with a single click. Bitdefender Antivirus Plus does a complete check of your computer for outdated and vulnerable software, as well as missing Windows security patches and potentially dangerous system settings, and proposes the best remedy.
Bitdefender VPN
You won't have to worry about your online privacy with Bitdefender VPN. So it protects your online presence by encrypting all Internet traffic. Bitdefender Antivirus Plus includes up to 200 MB of encrypted traffic each day for Windows devices.
3.McAfee Antivirus Plus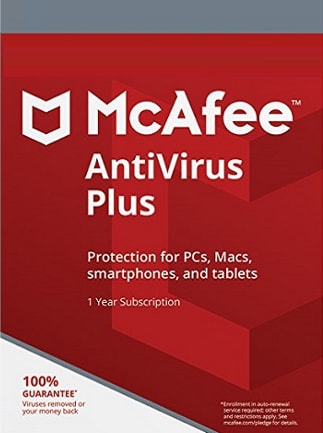 McAfee AntiVirus Plus, the award-winning device protection software bundle, focuses on the essentials. So you can defend your desktops, mobile phones, and tablets with the same level of effectiveness as the various McAfee AntiVirus Plus programs. So McAfee AntiVirus Plus protects your digital life like no other security program with just a single download.
You may receive the cheapest price when you purchase McAfee AntiVirus Plus through the Softvire online store. Therefore, McAfee AntiVirus Plus is available for download.
Key Features
Award-winning protection
With award-winning security technologies, you can safeguard your devices from viruses, ransomware, malware, and other dangerous digital dangers. Additionally, you'll receive lightning-fast updates to keep you protected against zero-day threats.
Keep precious things secure.
McAfee AntiVirus Plus safeguards the security of your devices and those of your family. When McAfee Antivirus Plus is installed, you may safely shop, bank, and socialize online.
Go beyond protection
Antivirus Plus includes performance optimization capabilities in addition to security measures. Maintain the health of your gadgets while obtaining world-class protection.
Support is a click away.
With your Antivirus Plus membership, you'll always have access to live technical help. So allow a McAfee specialist to assist you with your concerns by phone, chat, or email.
4. Watchdog Anti-Malware Global
If you want the highest level of protection for your devices, Watchdog Anti-Malware is the way to go. So with Watchdog Australia, you may obtain the most efficient and cost-effective anti-malware solution that integrates with your existing antivirus software.
Key Features
Double Protection
Determine whether your antivirus software has missed any dangers. So Watchdog works in conjunction with your antivirus program to identify potential risks to your computer.
Fast Scanning
The anti-malware program from Watchdog has been tuned to be as light as possible. So with a single click, thoroughly clean your system.
Effective and Efficient
Malware threats are stopped from circumventing your protection systems thanks to cloud-based multi-engine scanning. So watchdog Anti-malware detects threats by utilizing several scanning technologies.
5. Webroot SecureAnywhere Internet Security Plus
Webroot SecureAnywhere Internet Security Plus is a convenient multi-device security solution. So webroot SecureAnywhere Internet Security download keys are available at the most excellent pricing at the Softvire Australia online store. With our low pricing and savings, you'll soon be enjoying the multi-device protection that Webroot SecureAnywhere reviews rave about.
Key Features
Full security suite
Webroot SecureAnywhere is more than a service; it is a comprehensive security solution. So with a simple click, you can defend yourself from infections, conceal your internet activities, and secure sensitive information.
Protect vital information
Prevent identity theft by taking safeguards. Ascertain that no spyware has access to your surfing habits or keystrokes. So put an end to uninvited eavesdropping on your whereabouts and financial information.
Secure Browsing
Maintain the security of your login and password information by avoiding websites designed to deceive you. So Webroot protects your online browsing experience by ensuring that pages that request your password and login are legitimate.
Webcam Protection
Webroot Internet Security assists in protecting your camera from hackers. So ascertain that your hardware is clean of possibly hazardous applications downloaded from the Internet.
Efficient Protection
With no effort, you may achieve superior protection. Rapid scans ensure that your work is not disrupted while you are safe.
READ MORE:
Why Do You Need Antivirus Software in Your Business? (10 Reasons)
6. Trend Micro Antivirus+
Trend Micro Antivirus+ is a necessary piece of security for complete peace of mind. Security from Trend Micro is more than a program; it is a guarantee. All of the features that critics laud in Trend Micro Antivirus+ are available for download. So they are supported by nearly 30 years of digital security innovation.
Trend Micro Antivirus+ is available for purchase and download through the Softvire online store at a discounted price. When you install Trend Micro Antivirus+, you access a low-cost digital fortress that protects your online activities.
Key Features
Digital protection that you need
Trend Micro's sophisticated artificial intelligence (AI) rapidly learns to fight against digital attacks. So protege votre ordinateur contre les plus récentes menaces.
Full online privacy
Recognize phishing emails and websites that attempt to dupe you into providing personal information. Additionally, it protects you when you use social media on any device.
Protect yourself online
Maintain the security of your digital assets and personal information. Therefore, Trend Micro Antivirus software safeguards you against new ransomware attacks and emails phishing scams.
7. AVG Antivirus Global (ESD)
AVG Anti-Virus surpasses the industry norm in terms of real-time protection. Take no chances with the security of your device or data. Purchase the right digital license package from the Softvire Australia online store to protect your device for a year with AVG Anti-virus.
Key Features
Top online protection
AVG safeguards your computer against viruses, malware, and other online dangers. Additionally, it safeguards you against unintentionally opening insecure URLs and files.
File shredding 
Shred sensitive content to eliminate all traces of it from the Internet. So even after you've deleted critical data, ensure that no one else may access it.
Privacy
AVG protects your personal information from being spied on and stolen by hackers and internet snoopers. AVG assures their continued protection while your device is connected to the Internet by encrypting your sensitive files.
Protection and Performance
You obtain complete protection without sacrificing performance. You do not need to pause your work or play while performing a system scan. Maintain a safe working environment when using a computer.
Conclusion
Which antivirus program should you install? You have several possibilities. Independent antivirus testing laboratories routinely grant Kaspersky Anti-Virus and Bitdefender Anti-Virus Plus perfect or near-perfect scores. With a single McAfee AntiVirus Plus subscription, you can secure all your Windows, Android, Mac OS, and iOS devices. Webroot SecureAnywhere Antivirus is the tiniest antivirus on the market due to its revolutionary behavior-based detection technique. Editors' Choice: However, these four commercial antivirus solutions are far from the only ones worth considering. Before making your selection, look at our top-rated items' reviews.
To find out more about these items, please visit Softvire Australia.