Suppose you're interested in creating 3D models or drawings of various objects. In that case, this Turbocad vs Autocad comparison can assist you in determining which program is superior. These are two widely used computer-aided design applications, but I can assist you if you're unsure which one to use. I'll go over each product's features, ease of use, and level of support and then show you which one is the best.
TurboCAD History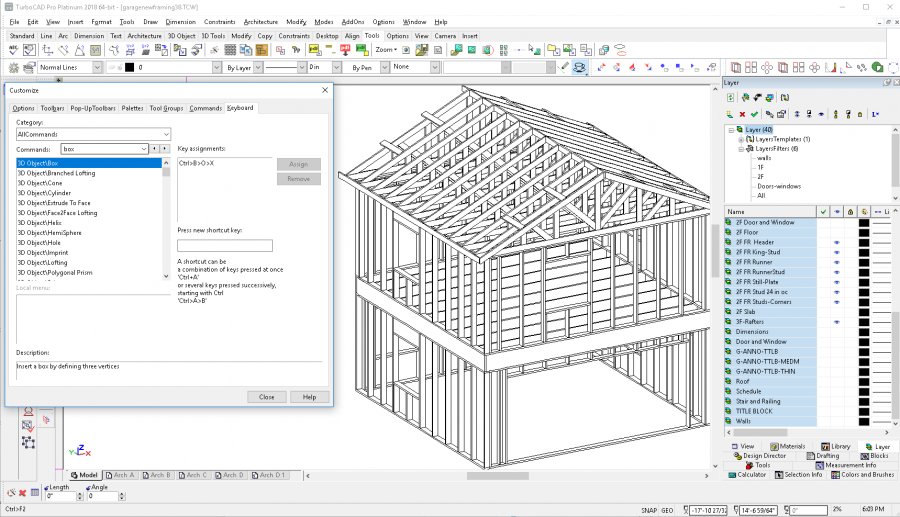 In 1983, IMSI commenced operations as a software publisher. IMSI was the first to publish corporate productivity solutions, such as the computer graphics package 4-Point Graphics. In actuality, 4-Point was the first painting program for the IBM PC. IMSI remained a publisher for the following seven years, recruiting no software engineers and limiting its application focus to those in the Computer Graphics business. Numerous of these graphics programs used graphic input devices such as a mouse, digitizing tablets, and portable and desktop scanners. Indeed, IMSI's first computer mouse was released in 1985 and first sold in 1986.
1988 IMSI Starts Selling CAD Software
When IMSI licensed ProDesign in 1988, it began distributing CAD software and private labeling it as IMSI Designer. A year later, IMSI began reselling TurboCAD, a South African product supplied by Milan Systems in North America.
1990 IMSI Owns TurboCAD
IMSI acquired Milan Systems and, with it the exclusive North American sales rights to TurboCAD, bolstered by the company's success in selling TurboCAD as a stand-alone product and as part of bundles with its mice. IMSI then obtained global distribution rights and, subsequently, the source code, establishing a dual function as a publisher and software developer in 1990.
TurboCAD was still a DOS-only application in 1990; the first development goal was to build a Windows version. A paid developer developed the original Windows version in the United States.
History of AutoCAD
AutoCAD has been available on the market since 1982, making it the first computer-aided design (CAD) solution. AutoCAD predates both Adobe Photoshop and Microsoft Windows! Before AutoCAD, commercial CAD systems were based on mainframe or minicomputers, with each user accessing a distinct visual interface. Without access, the designer would draw using a t-square and an old-fashioned drafting desk. It took days, if not weeks, to create new versions of designs and complete computations. Consider how time-consuming it would be to make sophisticated calculations with calculators and tables! Worse yet, load the operation with peril.
John Walker created Autodesk, the business that produces AutoCAD, in 1982. He and his co-founders aimed to create five separate desktop automation solutions hoping that one would catch on. AutoCAD became their flagship product in the end. At the COMDEX trade event in Las Vegas, they debuted AutoCAD as the world's first PC-based CAD program. AutoCAD became the world's most commonly used design application only four years after its inception in March 1986. It continues to hold that position today.
READ MORE:
Top 6 Proven and Tested Computer Aided Design (CAD) Software
TurboCAD vs AutoCAD Competition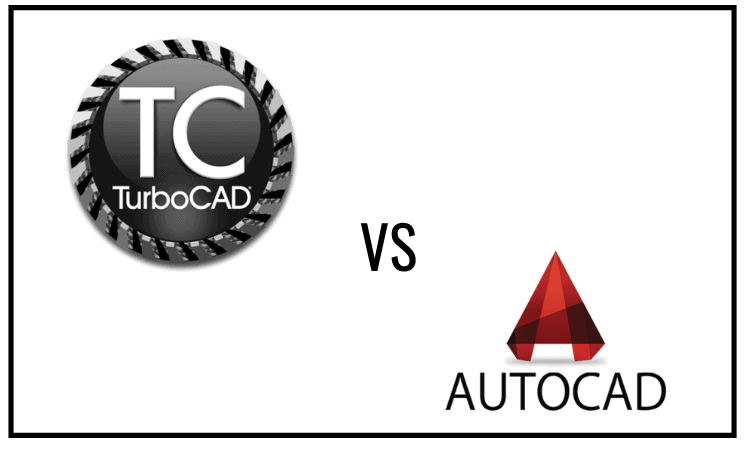 Drawing and Design
Both of these applications aim to improve the precision and quality of drawings and designs. Since the days of doing everything by hand with a pen and paper are long gone — 3D printing pens are now accessible!
Autocad offers a similar feel to drawing on paper, except that you're using a computer. It supports free-form sketching and comes equipped with various tools for creating realistic forms, geometrics, and, eventually, designs. Autocad is the preferred tool for anyone who wants extensive control over the output of this sort of program. It was initially meant for two-dimensional drawings but has grown to include three-dimensional objects suitable for printing and other purposes.
Turbocad is a reasonably comparable application to AutoCAD. Additionally, it features command lines, a dynamic input cursor, and the ability to draw freely in two dimensions. Turbocad also supports 3D, and it outperforms Autocad when it comes to producing photorealistic renders. It is comparable to Autocad regarding the drawings and designs it can generate. Still, the mechanism by which it does so is different. check out TurboCAD deluxe 2017 in Softvire Australia.
Workflow
Although most computer-aided design software is used collaboratively, you can work on these apps and a project independently, particularly if you have a 3d printer. It requires that the process's workflow be as straightforward as feasible.
One of Autocad's shortcomings is that each design component is separate. It is not linked and connected in the same way other software is. Because Autocad generates free-form drawings, the process can be a little fragmented. Because you work on multiple layers, it's not always apparent that everything is connected.
Turbocad provides an efficient approach for designing and fieldwork. TurboSite, an iOS app, may upload designs and incorporate site and other fieldwork data. It is then returned to the Turbocad application with the updated data, a precious feature.
Flexibility
Autocad accomplishes this by utilizing solid instructions and surface mesh for 3D modeling, allowing enormous flexibility. Customizing the appearance of Autocad is particularly advantageous because it enables you to highlight the tools you frequently use while hiding those you rarely use. You can design a layout specifically tailored to your needs and intended use of the application.
Turbocad is also highly adaptable, as evidenced by its mechanical design tools. It is commonly used in industries such as theater, furniture, and carpentry. Turbocad, like Autocad, is versatile and flexible, allowing users to hide tools and modify toolbar layouts.
Modifications
Because it is unavoidable that a drawing or design will not be perfect the first time around when using computer-aided design software, revisions and alterations are the standards. Changing designs in Autocad can be a lengthy and challenging process. Alter individual components of a design rather than the entire thing. Additionally, they do not automatically update across all views, as other applications such as Solidworks do. Therefore do this manually.
Turbocad automatically updates views, which simplifies the process of making changes. In addition, use the TurboSite iOS app to submit field data, which is subsequently transported back to the central Turbocad system and updated with relevant information.
Best Version of AutoCAD
AutoCAD – Including Specialized Toolsets
Autodesk is a software company that specializes in three-dimensional design and engineering. Autodesk Product Subscription delivers extra tools and technologies, as well as customized controls and analytics to assist you in managing your people and business more effectively. With Autodesk AutoCAD, Including Specialist Toolsets, you can work more quickly and precisely with specialized toolkits. AutoCAD now offers architectural, mechanical, and electrical characteristics and libraries, in addition to other industry-specific features and libraries.
Complete all design work within the specified timeframe. Automate repetitive tasks such as door installation, material generation, and the creation of PLC I/O drawings. Through industry libraries, over 750,000 bright items and components are available. Softvire Australia sells this great product.
Plans, paperwork, scheduling, and automated procedures are all included. Plan the layout of a building using architectural tools. For more information on AIA 2nd edition, click here.
Creates, changes, and documents electrical control systems, including an electrical design. Create panel layouts, schematics, and other electrical drawings using specialized tools. Utilize consistent project standards inside a sketch-based framework. The collection contains over 65,000 intelligent electric symbols that adhere to AS, GB, IEC, IEC 60617, JIC, JIS, NFPA, and IEEE standards.
Integrate AutoCAD GIS topology into the planning, design, and administration of your CAD and GIS data. It produces, preserves, and distributes mapping and GIS information within the AutoCAD drawing environment. Utilize task-based solutions to manage and aggregate GIS data with design information. Utilize a standardized data collection technique and automated workflows and report templates in the North American and European power, water, wastewater, and gas sectors.
Adds a collection of standard components and instrumentation to create, modify, and document mechanical production models. Automated mechanical processes include the generation of machine components, size design, and material fabrication.
AutoCAD has been enhanced to generate, design, and record MEP construction systems. I am creating and documenting detailed mechanical, electrical, and plumbing systems. Utilize task-based tools to produce MEP designs for construction systems.
Best Version of TurboCAD
DesignCAD 3D Max v2021(ESD)
DesignCAD 3D MAX paves the way for incredible creations. It is an indispensable tool in any designer's toolbox since it is intuitive to use and produces high-quality drawings, renderings, and animations. DesignCAD 3D Max is your passport to ever-more-awesome 3D creations. Due to its primary user interface and straightforward tools and settings, DesignCAD is a hassle-free experience for both novices and pros. Design in ways that previous CAD software has never allowed.
The cheapest pricing for DesignCAD 3D Max software is available online at the Softvire Australia store. You will not find a more comprehensive 3D Design bundle to unleash your creativity with our exclusive offers and discounts.
The following are the highlights of DesignCAD 3D Max v2021:
High-precision 3D tools.

The risk mode significantly increases performance.

The photorealistic image is just breathtaking.

Compatibility with a variety of popular 3D design software formats.

It is a digital licensing product.

It is only compatible with Windows-based systems.
READ MORE:
Automatic Computer-aided Design (AutoCAD) : The Future Of Engineering Prototypes
Improved Photorealistic Rendering and Visualization
CAD 3D Modeling You may now generate more realistic visual prototypes for your clients by utilizing Max's new rendering tools. Model the sun's illumination with enhanced volumetric effects to bring your vision and the vision of your customer much closer to reality.
Everything You'll Ever Need to Create 3d Models
DesignCAD comes equipped with all of the 3D modeling tools you'll need to create visually appealing designs for yourself or your clients, including extruders and slicing tools. There is no other suite of tools on the market that is more powerful or user-friendly.
Hassle-free Compatibility
DesignCAD's compatibility with other commercially available professional design applications, such as AutoCAD and SketchUp, has increased. You can upgrade to DesignCAD while retaining access to your previously created files.
Accelerated Drawing Performance
 The upgraded RedSDK mode in DesignCAD 3D MAX is 30 times faster than the OpenGL mode! Increase your output when your system is capable.
Conclusion
Autocad is popular computer-aided design software. Even those with no interest in drawing, modeling, or 3D printing are familiar with the company. Both of these programs are highly effective in their capacities. Turbocad may have an advantage in 3D because it is its principal objective. In contrast, Autocad's primary objective is 2D, making 3D feel like an afterthought.
These items will require time and practice to perfect for someone unfamiliar with them. They have a learning curve and will improve with time and practice. The good news is that you have access to an abundance of knowledge in the shape of manuals, tutorials, and forums.
If you're interested in investing in any of these softwares, you can also visit Softvire Australia.
CHECK OUT: